According to the National Insurance Crume Bureau's (NICB) Hot Spots Report, vehicle theft continues to skyrocket in many areas of the U.S. Nationwide, 932,329 vehicles were reported stolen to law enforecement in 2021, a 6% increase over 2020, and a 17% increase since 2019.
Colorado led the nation in 2021 with the highest overall theft rate at 661.21 thefts per 100,000 people, up from 502.12 in 2020 an increase of 32%. California led the other states with the highest number of vehicle thefts by volume once again in 2021 with 200,524 vehicles stolen, over 100,000 more thefts than second place Texas.
Auto theft is covered by the optional "comprehensive" coverage on your auto policy.
"For many of us, cars are essential to our livelihoods and the welfare of our families." said NICB President and CEO David Glawe. "NICB, along with our partners in law enforcement, are proactively working to prevent and deter vehicle theft, but vehicle owners can take simple steps to empower themselves. No matter who you are or where you live, theft prevention starts with good security hygiene. Lock your doors and keep your keys with you at all times."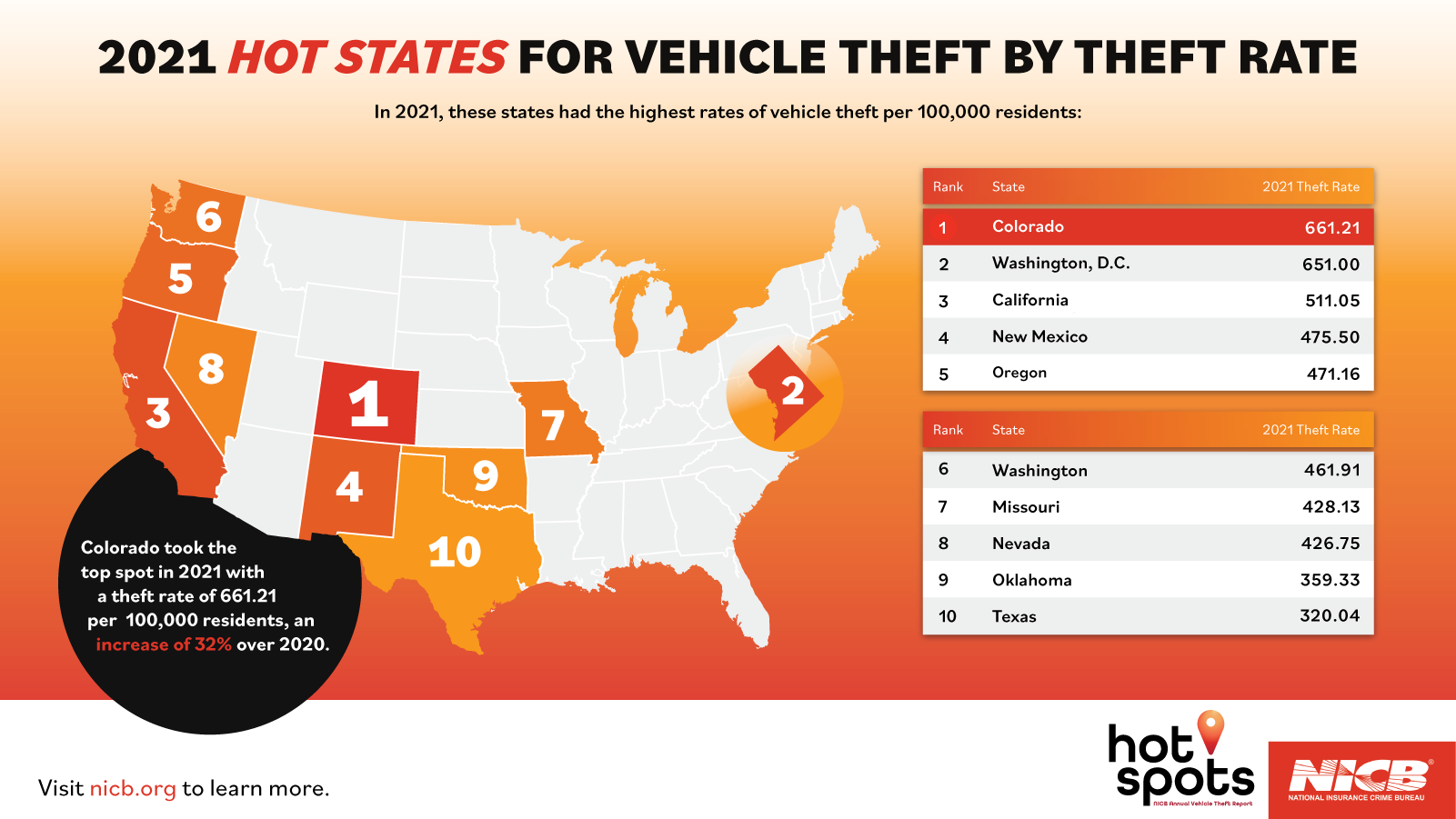 NICB encourages vehicle owners to consider these tips to avoid becoming a victim of vehicle theft
Always practice good security hygiene.
Make sure your auto policy is up to date.
Roll up your windows, lock your doors, and take the keys or fob.
Park in well-lit areas and, when possible, areas staffed by security
Park personal vehicles in a garage. If not possible, and vehicles must be parked in a driveway, consider installing motion sensor security lights. While lights may not provide complete security, it may make some thieves think twice, making them leave the area and your vehicle untouched.
Should your vehicle be stolen, call law enforcement and your insurer immediately. NICB data shows that reporting a vehicle as soon as possible after it is stolen increases the chance of recovery.
Car owners have become complacent about theft, with 56 pecent of americans reporting that they rarely or never worry that their car will be stolen according to III.org
The FBI estimates that the number of motor vehcile thefts decresed 4.0 percent in 2019 with an average dollar loss per vehicle of $8,886.
A survey of American drivers conducted in April 2007 on behalf of the National Insurance Crime Bureau and LoJack, a manufacturer of an electronic vehicle tracking and recovery system, found:
79% always lock their vehicles.
93% never leave spare keys in their vehicle.
However, the survey also found:
One-third admit they have left their car while it was running, which makes the vehicle an easy target for theft.
47% don't always park in a well-lit area.
40% don't hide their valuables. In fact, nearly half leave mail in their vehicle, a quarter have left a purse or wallet, and almost a third have left bank statements, all of which can put them at risk for identity theft.
Although 75% of respondents know that there are costs associated with vehicle theft in addition to paying the insurance deductible and the cost of replacing the vehicle that are not covered by insurance, virtually none knew that there are additional costs such as insurance premium increases, the cost of time spent dealing with police, vehicle rental costs, and the cost of time off from work. The survey was conducted by Opinion Research Corporation.
Most Popular Stolen Vehicles
Top 10 Stolen Vehicles in the United States in 2021 by Make and Model According to the NICB "Hot Wheels" Report:
| | | |
| --- | --- | --- |
| Rank | Make & Model | Total Stolen in U.S. |
| 1 | Chevrolet Pick-Up (Full Size) | 48,206 |
| 2 | Ford Pick-Up (Full Size) | 47,999 |
| 3 | Honda Civic | 31,673 |
| 4 | Honda Accord | 30,274 |
| 5 | Toyota Camry | 17,270 |
| 6 | GMC Pick-Up (Ful Size) | 15,599 |
| 7 | Nissan Altima | 14,108 |
| 8 | Honda CR-V | 13,308 |
| 9 | Jeep Cherokee/Grand Cherokee | 13,210 |
| 10 | Toyota Corolla | 12,927 |
Click here for the most popular vehicles stolen in Colorado, New Mexico, Utah and Wyoming.
Living in urban and higher crime areas has an impact on your risk of being a victim of auto theft. Port and border cities continue to be boomtowns for the auto theft business. Of the top 25 metro areas in the nation for vehicle theft, nearly half are ports or communities with easy access to borders (*National Insurance Crime Bureau, or NICB). The NICB study compares the auto theft rates per 100,000 population in 380 metro areas.
The top 10 metro areas with highest auto theft rates in 2021 (Theft rate is total thefts per 100,000 residents):
Bakersfield, CA - 1023.68
Denver-Aurora-Lakewood, CO - 964.92
Pueblo, CO - 891.39
Alburquerque, NM - 710.58
Portland-Vancouver-Hillsboro, OR-WA - 680.20
San Francisco-Oakland-Berkeley, CA - 675.86
Billings, MT - 611.11
Milwaikee-Waukesha, WI - 597.83
Seattle-Tacoma-Bellevue, WA - 582.47
Yuba City, CA - 578.68
Not all states experienced an increase in thefts in 2021. Since the release of the 2020 Hot Spots report, 22 states have seen decreases in vehicle thefts.
Report fraud and vehicle theft to your local law enforcement, as well as the National Insurance Crime Bureau at 1-800-TEL-NICB (1-800-835-6422). Your call to NICB can be anonymous and you may be eligible for a reward.